I've been writing this note here along the way. My journal of motherhood for baby number two if you will. I'm happy to share our Airo Jade arrived Sunday January 29th in the comfort and warmth of our home surrounded by her loving family and supporting birth team. It was an unforgettable, beautiful and empowering experience. It was also a lot of effort and determination to get the home-birth I knew I could have and desired from day one.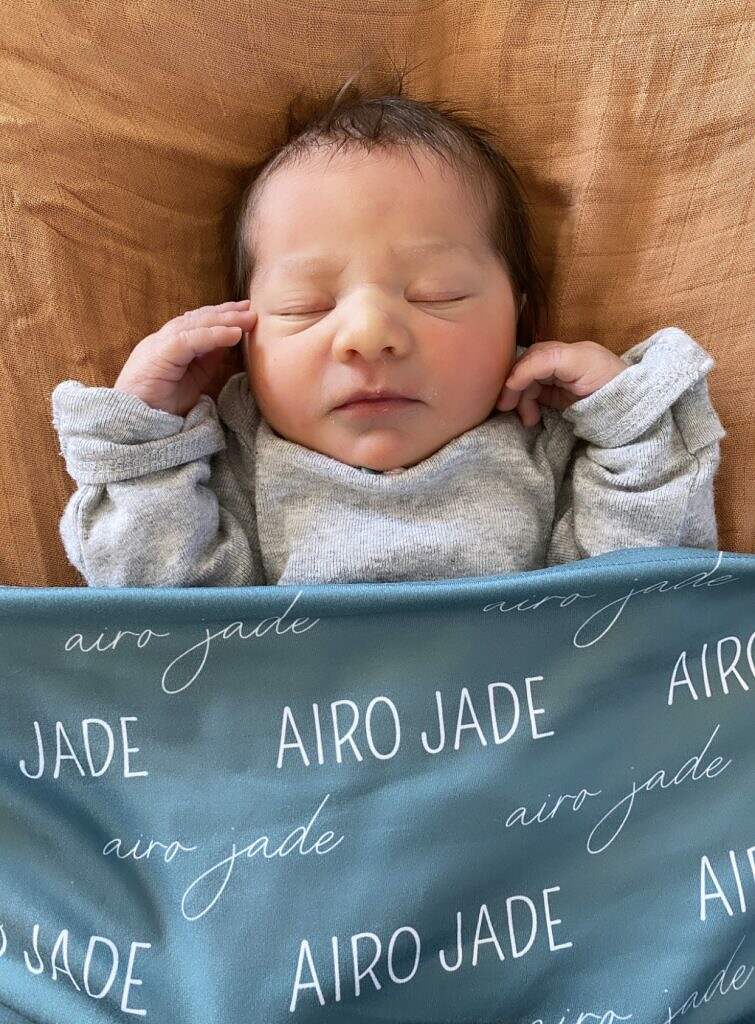 And it goes like this…
This pregnancy has been a wild, beautiful ride. A good reminder, find the right avenues that bring the strength and comfort you need. I've enjoyed every minute, also learned much more about my body and power. It started out I was very sick (nauseous) then sore (pelvic and muscles) then stressed a little, then successful.
When I took the 1st test at home it was negative. I knew two or so weeks before that I was going to have another baby. A girl. I even told my therapist it clicked why I had started seeing her months before. She was to guide me through the lifelong fears of having a daughter, or even a second child.
Negative test and I was like, well, okay I guess not now even though I felt it in my bones. A week later, still no sign of my lady time, I took 3 more. All positive. In shock, I knew it was coming, yet was not trying either way. We had zero plans for another child. I would say just after Arlo turned 3 I had a feeling as much as I wanted to just have him the design for our lives included a sister. It was weird to feel those signs, trying to avoid, trying not to just bury them away either.
It was fun and a whirlwind surprising family and friends with the news. It all hit differently for both Cody and I in the world of "unfairness" hung over us since "we were done." We both had to wrap our brains around the life shift and change of goals we had laid out. Some work as individuals and a couple unfolded quickly. We were happy for this, just didn't think we'd actually have another. 🥴 As we always do, we talked through challenges, we planned for changes, we came to understand where we each are and how to help ourselves through as parents and a couple.
We had a wonderful baby shower and gender reveal that at no surprise was pink. Preparation began, Arlo was so excited the entire time. Of course, wanted a brother but his gentle lovingness shined for a sister.
The first trimester I slept away my summer due to nausea, complete exhaustion, and zero toleration of the heat. It was a hard one to swallow as that's mine and Arlo's favorite time to be outside and have all the fun. I just kept telling myself it's only a little while and resting is what my body and baby needed.
Second trimester no icky feelings, just constant aches in expanding places. Yoga, walking, rest and lots of nesting all over the house.
And then third trimester and a good understanding of my body came about. Around 28/29 weeks, and several weeks of already feeling like something wasn't quite right, I found out baby girl was breech. Literally the worst news a home-birth momma can hear – right? I knew when she flipped, I felt it happen. Very early at this point to be majorly concerned, but still. It was actually the biggest relief for my body for her to shift and allow my body rest from being over stretched in places that needed healed before the massive changes could really unfold. Intuitive little lady she is. She then went transverse over a few weeks while I tried things at home. I knew I had to do more to get her head back down. It wasn't something we would just deal with or wait out. I had work to do to make her comfy and grow properly in my body. 
At 31 weeks, Cody sent me to a Webster certified chiropractor that specializes in pregnancy and getting babies head down. Come to find out, I had scar tissue in my psoas on one side, and a pretty messed up sacrum, likely from improper posture, bad sleeping habits all my life, a minor tailbone incident as a child, and for sure from my previous labor and birth. I swear everything expanded over the 12 hours I was in labor with Arlo instead of throughout pregnancy like this time. This made total sense to me why I never liked Cody adjusting those areas, especially for the last 3.5 years. 🙃 But when baby is part of the equation, you do what the pros know regardless the body sweats you get from their work and the torturous moves you do as homework!
Midway through week 32 I was already feeling major relief and could tell she was getting head down again. I was doing certain stretches several times a day, lathering up in Frankincense, and being way more mindful of my posture. The importance of that during pregnancy is no joke! Pelvic health in general is so important. I wanted to just lay around, read, stay warm, but NOPE baby girl and my body said get it together this is not how your body operates. Being still was not something I was used to as is. Sitting was not something my body would allow much of, comfortably, especially now that it was expanding and getting more weight on it. I'll be cozy when actually healing and cuddling time rolls around postpartum! This was a time that I kept reminding myself, where my mind is, my body follows. I stayed off socials, listened to my affirmations, and got even more serious about what I wanted my pregnancy and birth time to look like. Positive visualization can really make a difference when you are trying to accomplish something. I also only told maybe two people about the situation because, who needs others stressing you more with their own fears, worries, and opinions. So, I stuck with the people I knew would encourage me more than anything.
Meanwhile, this going on and I'm also having to hire, train, and set up an entirely new software within the clinic with help from a 4 year old I need to incorporate some schooling with here and there. Wewf. Not exactly how I imagined, but eventful and kept me moving nonetheless. Mindset matters when things are going a tad sideways.
Midwife appointment end of 32 weeks, still having chiro treatments two times per week, and the great news, baby girl was back head down, we were measuring right on track with size and weight, and her heart was thumping strong. All the work paid off and I was feeling so much better and even more ready for our birth time. Still not much sitting or even bouncing on a birth ball. Try doing everything laying on your side when you just need to relax for a few. 😄
Week 33 – feeling like my body and baby know we are in the final stages. Days I'm full of energy and others I can barely get going.
Week 34 – less sore, more energy. Baby girl feels somewhat sideways again which is probably why I am not as sore. Wew the rollercoaster of these movements! As it would turn out, our midwife confirmed she was head down and all vitals and such were perfect. I stay in a positive space mentally as my body and baby are in rhythm for the best time growing through pregnancy and preparing for a safe and comfortable birth in our home. Holidays rolling around, which always make me edgy as is being around so many people, different foods, routines, and the extreme cold hitting so early with lots of sniffles around us. While I don't mind discussing my birth plans with family and friends, it's still not something I want to in great detail with just anyone. Few cheerful and supportive. Few unaccepting of my choices or fear based mindsets that just don't sit well with me. To each their own right of opinion. Luckily my ears go mute to the comments and eyes go blind to the expressions. I value the support system I have, it truly makes a difference for something like this.
I can remember sharing Arlo's birth story with other moms and unleashing all the fear and pain I felt, because I did not know any better. Not something I am proud of today, but it was part of this healing process with this pregnancy nonetheless. In hindsight, I actually had a great labor I just did not educate myself well enough on how to labor and deliver as I'd really hoped for. I have scars on my muscle tissues to prove it.
Almost 36 weeks. 1 month to go. Feeling good and baby girl is growing well. There are days I feel like walking around the house is the equivalent to walking up a flight of stairs everywhere I go. And days I get the entire house cleaned, played hours with Arlo, cooked good meals and sleep beautifully. I never got to choose though! 😄 I'm working out a tad more to get ready for however long my birth time will look like. I'm feeling and believing it will be quick. Still want my body to be well equipped for all stages. Little miss is very active at all hours, still head down. Thankful for all we have done for each other already.
Into week 36 and this is the best I've felt physically the entire time. Cody has me k-taped up, daily pressure points targeted on my sacrum where I get all the kinks, still weekly adjustments and treadmill or yoga pretty much daily. About time for my midwife in home visit so I have some major final prep work to do so all is ready when baby is ready. Baby feels long but small. Little feet right in the middle of my ribs/esophagus area. Sleep is getting minimal.
I'm getting a bit emotional about being able to spend quality time with Arlo. A lot of work going on right now I had planned to not be doing. There are days I cancel everything on my calendar and just build legos and play hide and seek 8 thousand times all day long and that is it. If he weren't counting down the days for baby sister in total excitement for her arrival I might be having a tad more difficulty with the transition ahead. He's one magical kiddo and big brother.
Week 37
Home birth cart all prepped. Everything we could possibly need during birthing and when baby gets here. Some things for the midwife, most things easily accessible for Cody. Intentionally on wheels so we can move it around any room where I'll feel most comfortable. The midwife team will bring most medical supplies and be prepared for all scenarios. They are about 40 minutes away so I'll notify when it's really game time and not so much when labor starts. After this week I won't be getting out but for chiro and midwife appointments. I'm anxious for them to come out to the house for a final game plan then I'll be totally set for go time!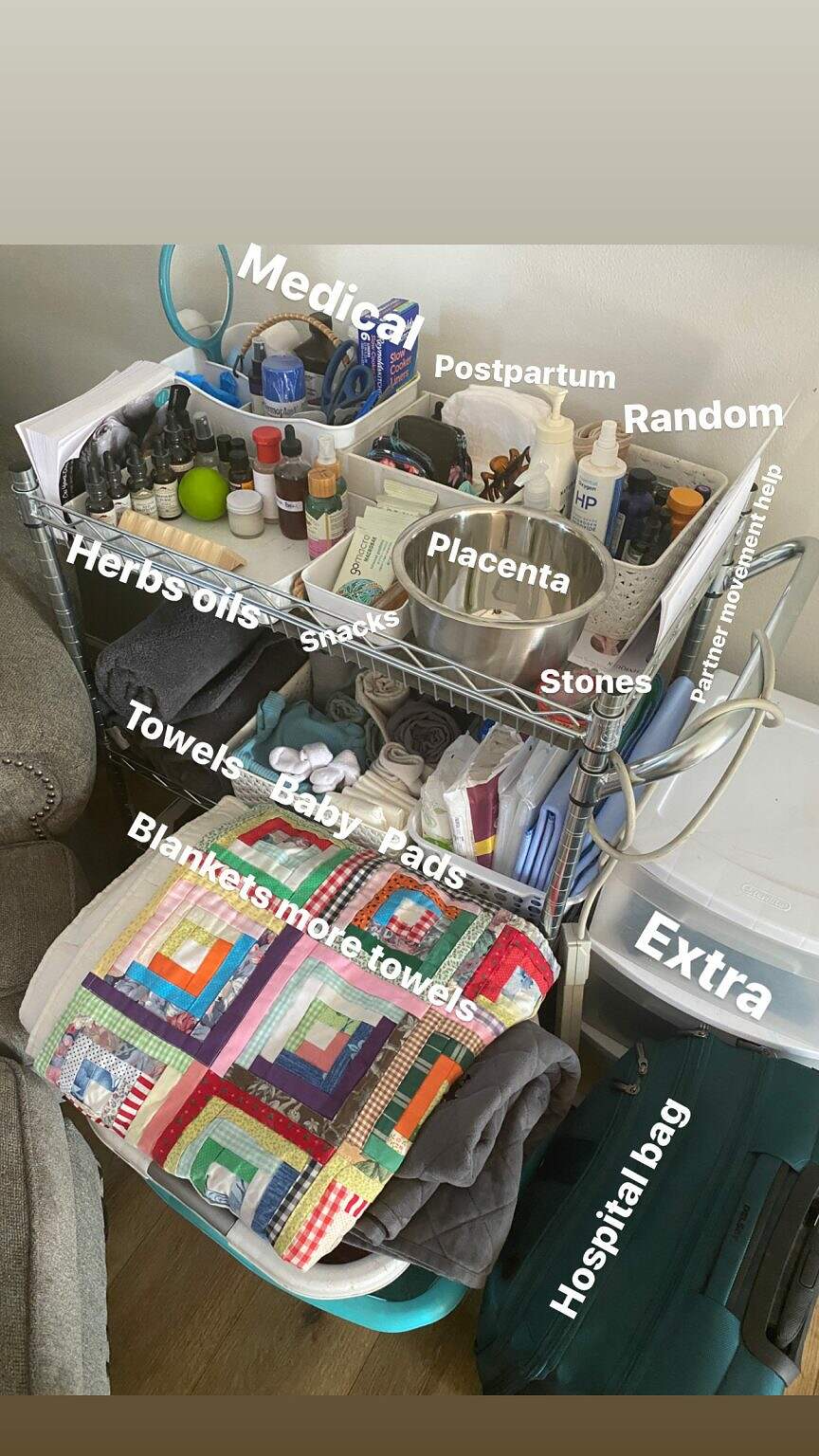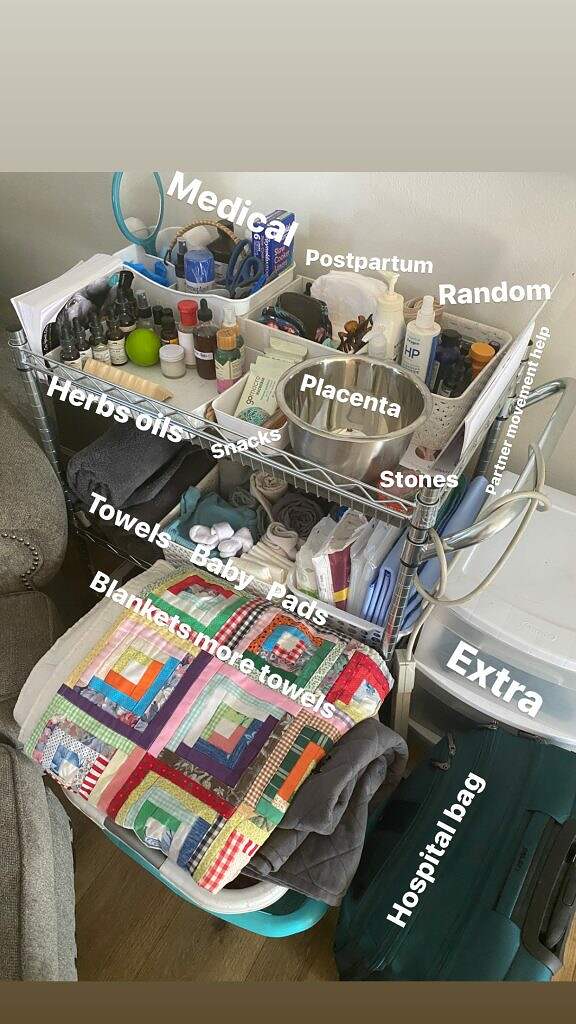 Week 38
Midwife came to the house for our run through and made sure all is good to go. Yesterday and today I have felt little lady crawling on down. My body still feels good. Keeping up the stretching and movements to help proper positioning. I can definitely tell my body is preparing and baby is syncing with me. A good balance of movement and rest the next few weeks. I wake up between 12:30 and 2:30 nightly, get up and eat, meditate, stretch and know this will be the time she's most ready. Back to bed by about 5am.
Week 39
Oh we are getting closer! Deep nesting, not leaving the house but to go to the library and maybe the local store if we run out of berries. But I'm glad to be in the final stages and we are all ready to meet our girl. We are getting the birth pool aired up early. I like a prepared space to visualize instead of doing it right when needed. Arlo and I colored and cut out affirmations to hang near the pool. He's actually wanting to be with us at home through the birthing. He's watched videos with me and grasps what happens quiet well. It will be up to him as we go. He and I have such a connection and wavelength I feel very comfortable with the idea he is near as I labor. I have rolling carts and sheets with instructions printed throughout the house so my team and family feels just as prepared and able to help as needed. My body is strong, my mind is strong. We are ready and excited and full of joy already for what we've all accomplished through this pregnancy.
Thursday the 26th at my midwife appointment to check in, I told her I'd be buzzing her over the weekend about 3am, baby girl will here by 9am. 😉
Friday I made a jug of an electrolyte drink and bone broth to have through or after birth. Tried not to eat too much, just nutritionally packed small meals. Digestion can play a big part in stalling labor or helping it progress so I wanted my system to be "tame."
2 days until due date. Very few signs of labor starting soon. Feeling great though! I've been getting in the birth pool (no water) just the heating blanket, peanut ball and affirmations. Figuring out positions and ways to move around when needed. Little miss getting lower. As much play time with Arlo as I can. And lots of getting Cody mentally ready to help. The blizzard today just has us wanting to stay warm and cozy. We wouldn't mind her arrival tomorrow! (This was Saturday.)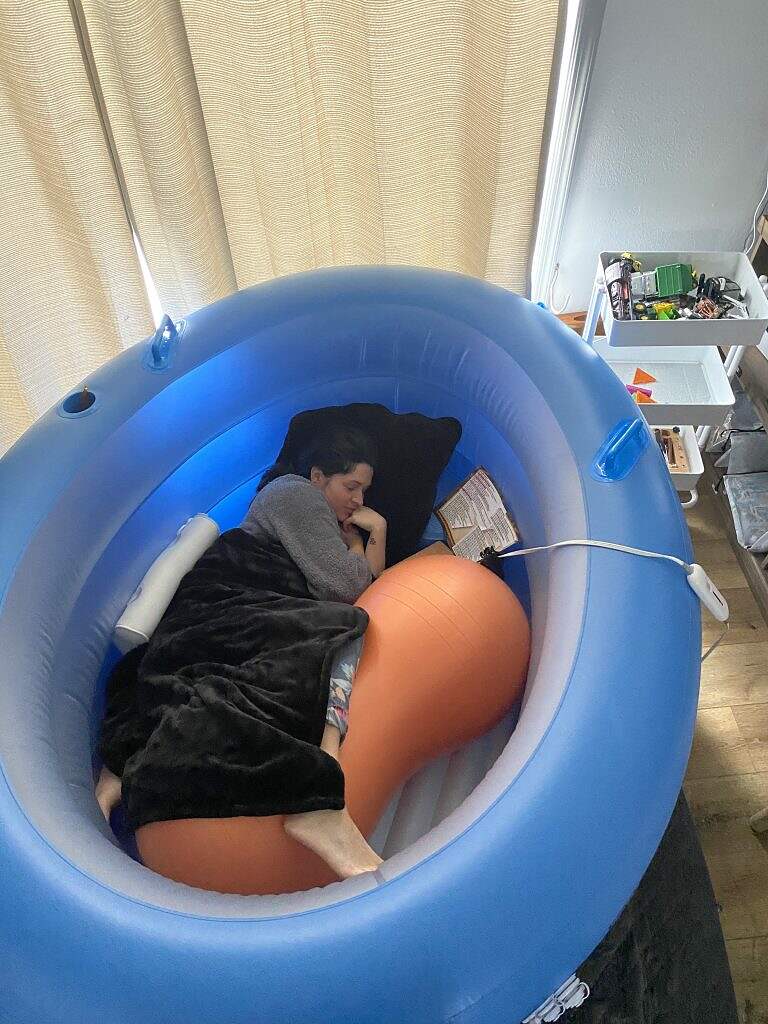 I took a good nap in the pool like this on Saturday about 3-4pm. Read affirmations and just rested as I felt was what my body needed. This position was how I delivered baby!!! I instinctively listened to my body and where it needed to be for comfort as she came out. It was wild. My midwife said that was a first for them and it was successful and smart.
12:30am on Sunday the 29th, I woke up to minor contractions spaced out pretty evenly. I grabbed my timer, audio meditations, and stayed in bed for over an hour or so. I knew it was the real deal. I woke Cody up about 2:30 and said, "grab some water it's game time!"
By 3:30 I was to the point I knew I needed to contact the team as we would need help soon getting me through them. I had combs to dig in my hands as I went through each wave. These saved me. My hands took a beating but healed quickly.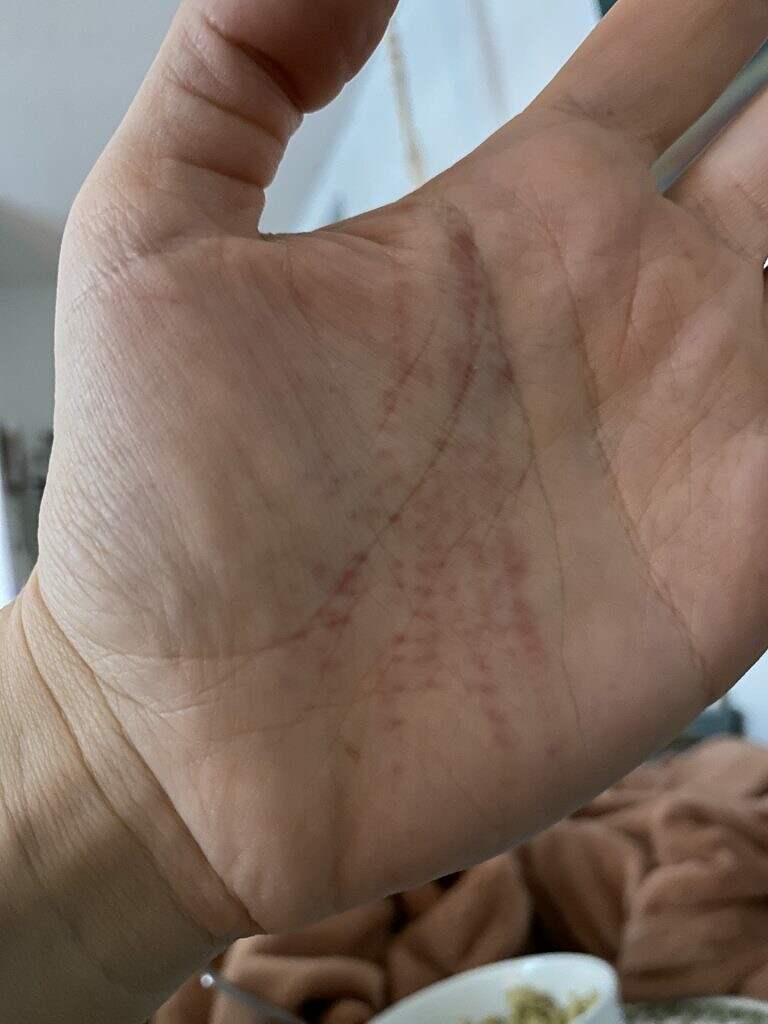 Laying on the couch powering through the intense contractions making their way to my back, I felt the urge the throw up. Grabbed the can, threw up, got a nose bleed from it but that and leaning over the couch helped baby move and I got a few minutes to call the midwife at 5am and confirm it was time to come over. Cody was a champ getting me things, picking up and making room, and listening to me yell through the back contractions I knew would be the hardest part. I prayed, I reminded myself my body and baby were in sync and knew exactly what to do. I just needed to breath through and allow my body to rest in between.
Almost to the point of crying, half my body on the couch the other half on Arlo's kiddy table. No clue, but it helped. The gals walked in at 6, started setting up and I said I needed in the water asap. The nurse asked when the last time I went to the bathroom to which I had no clue but felt a ton of pressure in my bum I knew I should try. Saturday our clock in the living room stopped working so to my advantage I was unable to see the time through all just went based on my texts/calls after the fact. It was all quick but I'm sure being able to see it would have felt longer. I remember when I stopped at 4 Saturday afternoon thinking, well this must be a sign.
So the nurse and Cody carry my to the bathroom, I knew putting too much pressure on my legs would start a contraction. They got on both sides and lifted away. Bless them during this. I sat on the toilet through 2 very long and uncomfortable waves as Cody and the nurse held me up to pass everything in my system. It was the absolute worst part! Totally normal and a good sign when you poo though so I was mentally glad and let the embarrassment take a hike. Arlo woke up during this phase, "momma why are you yelling" I heard from his bed. Probably 6:15/20am. Little sweetie.
Pool was hot and had just enough water for me to climb in and deliver. I pretty much dove right to the position I was in on Saturday. Asked for my pillow and got comfy on my side. I asked my midwife to hold my leg and the nurse held my arm and kept me above water better. She said, we are about to have a baby, which was exactly what I needed to hear as I had no idea just that I felt like I needed to poo again. Oh, the pressure. It wasn't uncomfortable I just felt where I needed to push. The discomfort was my right side and back/butt.
An intense contraction hit, my waters broke, and babies head could be seen. I could tell it was there and small! I felt all along miss was a little thing. Another wave of mostly me screaming and pushing through my bum and her head was out. I got to breath and wait for the feeling to push again. Felt a slight burning as her shoulders started making their way out and with a very loud roar she was out at 7:06am. Discomfort gone. Tiny baby in my arms. Dad in tears. It happened so fast he might have missed most while getting Arlo breakfast. 😁 Arlo walking near with sunshine in his eyes as he saw his baby sister. It was the most beautiful experience I've ever had. Baby and I in charge and in tune with each other. Surrounded by our greatest loves and the most amazing birth team a mom could have asked for.
We stayed in the pool until the umbilical cord stopped pulsing and I cut it. The placenta passed, which I plan to dehydrate, grind and consume. Daddy got his snuggles in while I showered and cleaned up. To bed we went and stayed the rest of the day.
Postpartum cramps and contractions, especially while breastfeeding is about as painful as it gets. I've made it through those for the most part now and baby is nursing happily away as she pleases.
Big brother continues to help and play and sing to his little sweetheart.
Daddy gets in cuddles when he can but mostly working, doing house chores, and taking care of the dogs. They saw baby through the door and were just so anxious to get to her. Soon though. We need warmth and my physical strength back for that! (I did let Chip sneak a lick of her head because as a protector, he needs that connection right away.)
My body is healing well. I need a head to toe adjustment but it's a bit too early for that. We sit in the sun in our rocker or our big chair buried in pillows and play with big brother or let him bring us water refills or fruit.
I am very proud of myself, Cody and Arlo for all of our preparation and dedication to a joyful home-birth. I took courses, watched countless videos, read several books, meditated, listened to fear-cleansing and birthing affirmations. I stretched, walked regularly, and did labor prepping movements. I visualized a birth in the water at night with low lights and everyone calm, full of hope and joy. I was ready to mentally coach myself through the tough parts and accept guidance as I needed it. I wanted Cody and Arlo to experience every step to bringing our girl in our arms. I prayed for a healthy baby that my body could grow and birth. It was a physically challenging pregnancy but the most beautiful birth, which is exactly what I desired. I got the birth I imagined. She was 6lbs 10oz, 21 inches long.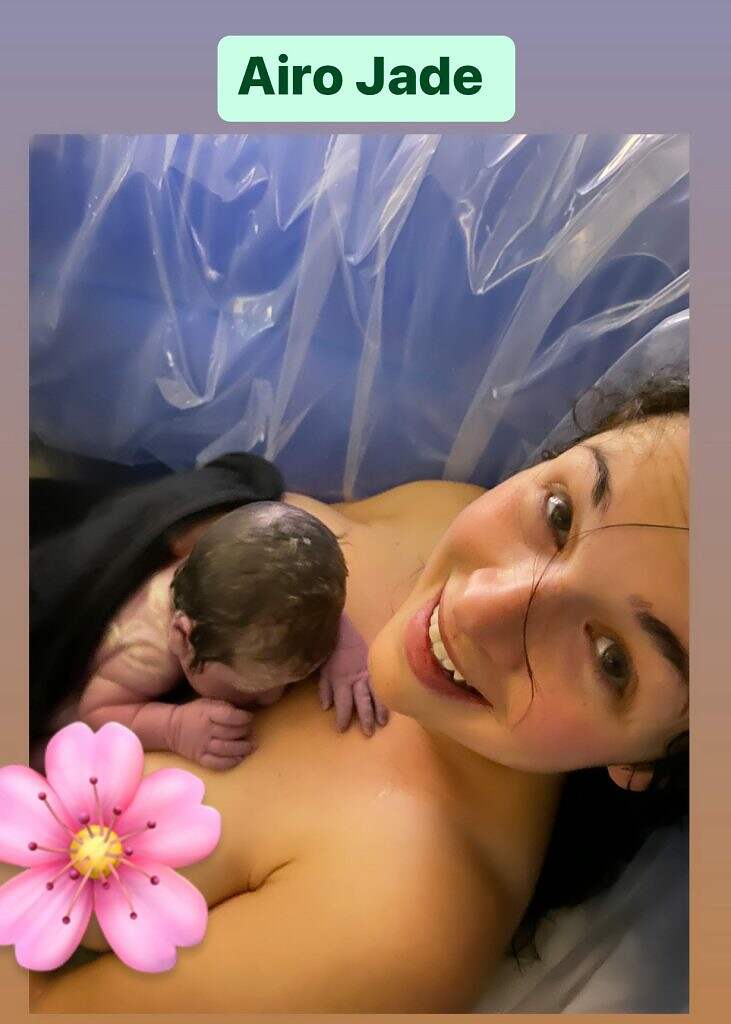 How we picked her name! Airo Jade
We originally wanted to go with Annabelle as our mother's middle names are both Ann. Sorry, Moms, we just couldn't make it stick. We had Arrow decided on for a boy and all 3 of us really liked that and kept coming back to it. On the gender reveal day, Arlo chose the pink arrow cookie we made as his first to eat, which made me really desire that name. A few weeks later Cody mentioned how much Arrow was sticking with him. A good strong, unique name. We went with Airo to be similar to Arlo and my writing/schooling brain couldn't see "rr" going well for learning. Airo it was.
Jade. I dreamt very early on that I was telling someone my daughters middle name was Jade. Woke up, loved it. Saw my friend with the same name that day (hadn't seen in a solid year I'm sure) as I was writing it down to visualize and knew it was meant to be. ☺️
Psalm 127:3
Children are a gift from the Lord. They are a reward from him. Children born to a young man are like arrows in a warriors hand.
Jade is a highly valued stone that symbolizes gentleness, serenity, harmony, and balance in feng shui, or the practice of bringing balance to your life and home with energy. Jade has many meanings, including strength, luck, and good health.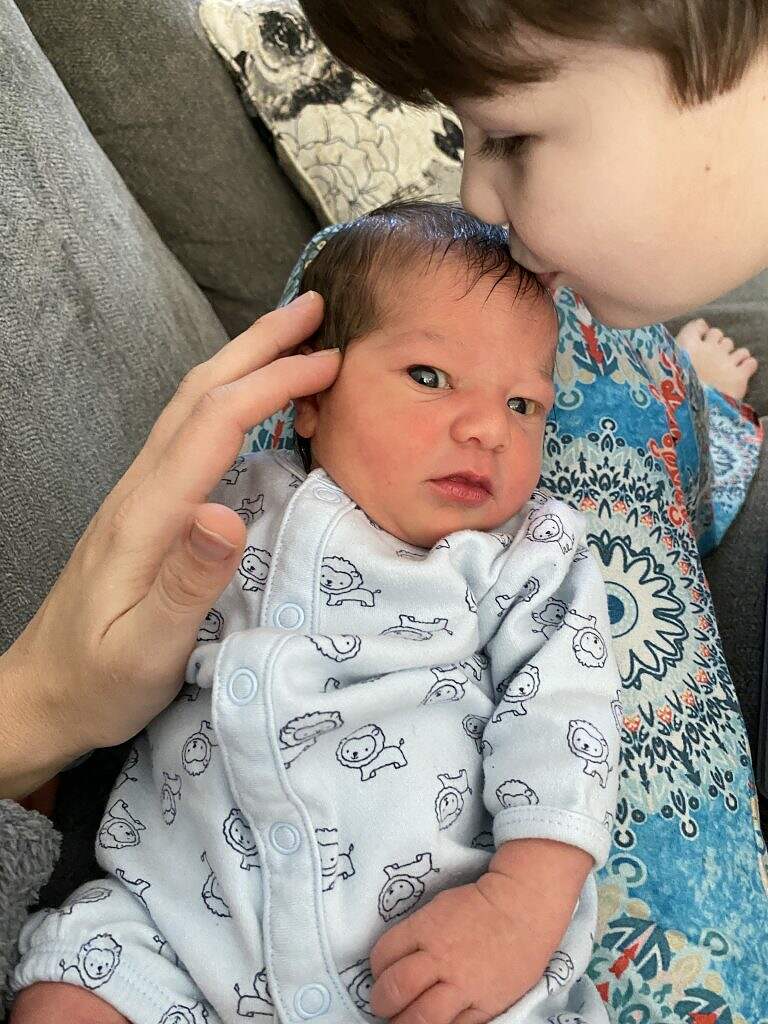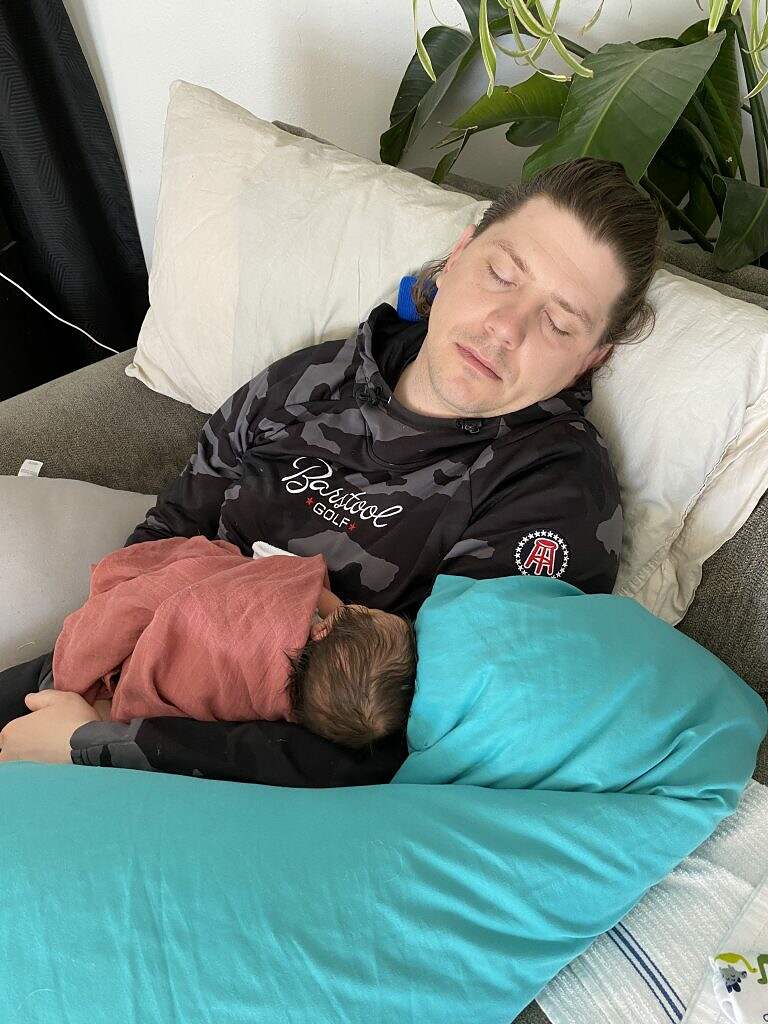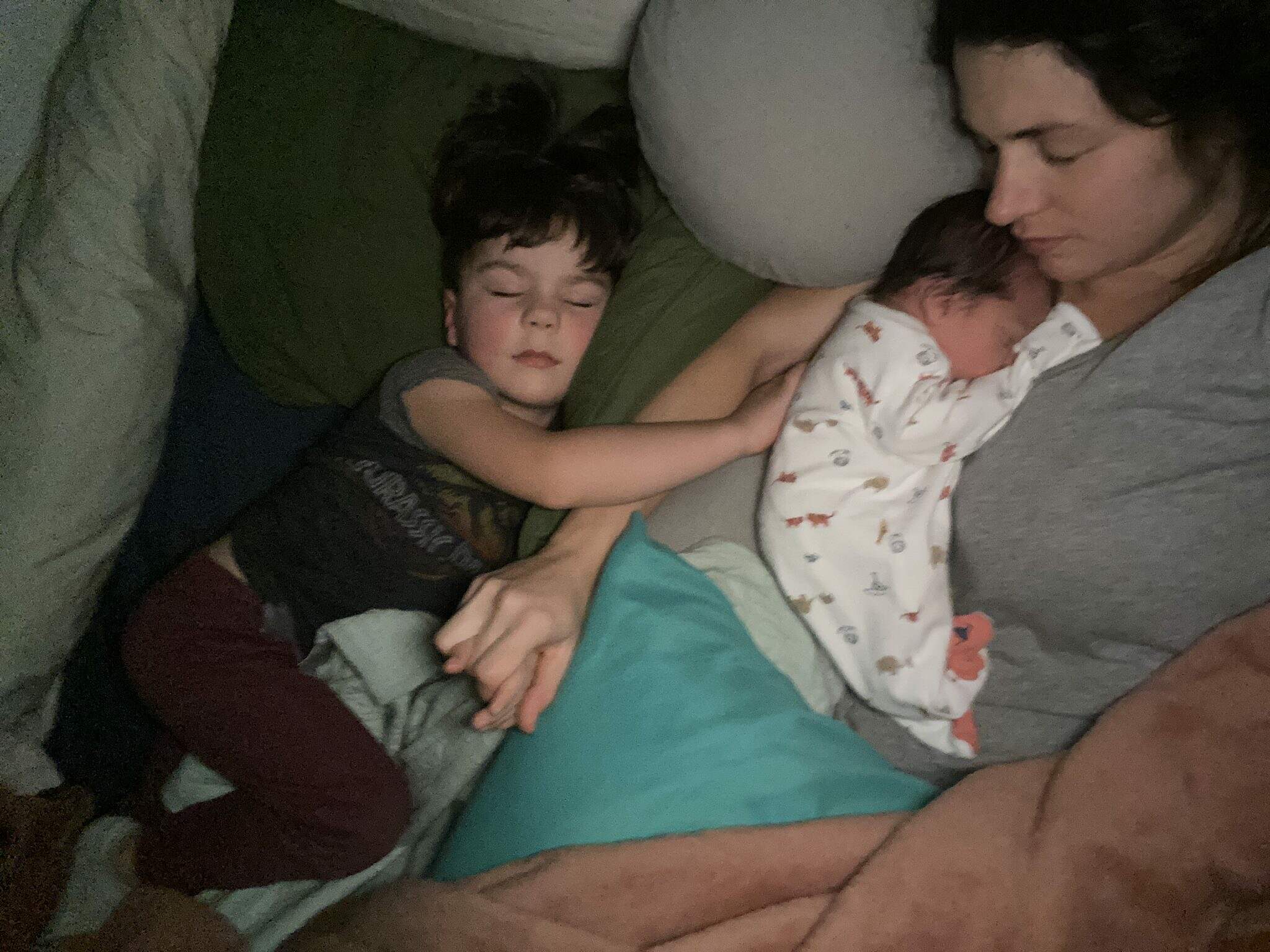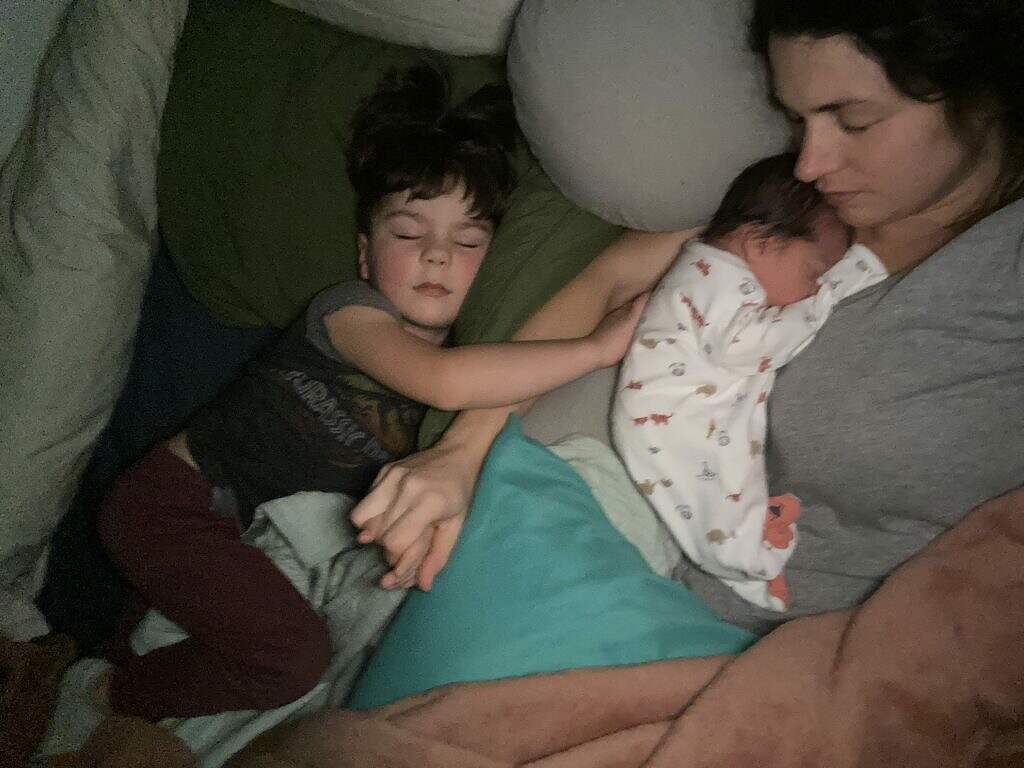 Resources I used throughout:
https://www.instagram.com/builttobirth/
https://www.instagram.com/pregnancyandpostpartumtv/
https://www.instagram.com/serenitylifedoula/
https://www.instagram.com/mamastefit/
https://www.youtube.com/@PregnancyandPostpartumTV/videos
https://www.facebook.com/groups/homebirthsupportandchat
Midwife team:
Promise Community Health Center in Sioux Center
Kari and Kris
From day 1 I felt comfortable and understood with these gals. We let nature be the lead the entire time. The one and only vaginal exam was after delivery for tearing and the first sight of me in the nude was getting in the pool. The way to go if you want a hands off, let the body do its thing approach. Highly highly recommend Kari and Kris. They have the most calm presence about them and very knowledgeable.